This is the original 289 motor after it was stripped, hot tanked, and built on the engine stand. I continue to change (improve) the motor.... I love this shit.
.
Thanks to Summit Racing for all their help and guidance, and Scott Drake products.
To see the detail, click the picture, and click the "Return" Button or Arrow to return.
THE ORIGINAL 289 MOTOR FULL BUILD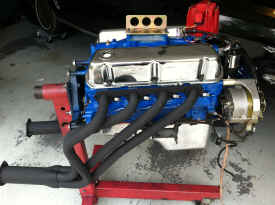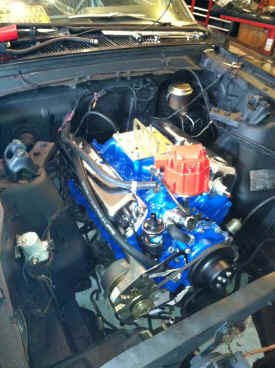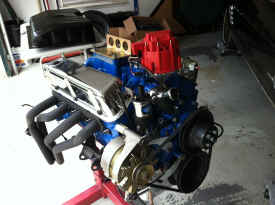 Above is my first build of this 289 motor. I removed the original radiator and replaced it with a 3 row aluminum radiator and 16lb radiator cap. I put long headers on it. I had to remove them before I could get the motor to fit back in the car. I was surprised that they dropped in perfectly. The headers would be bad for the starter (Too hot). I had to put in a new smaller one and wrap it to keep the heat off it. The electronic (red) distributor was too big. It would not allow me to rotate it enough to set the timing. I removed it and put in the blue one below. I ruined one of the valve covers... I cut the top off it, so I could set the valves with the motor running. I used 11mm plug wires, but they were too thick to fit in wire looms.
289 MOTOR BUILD #2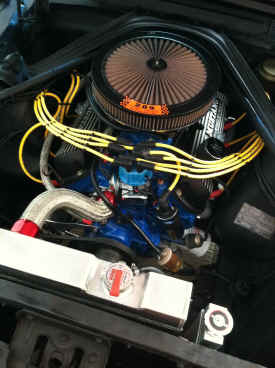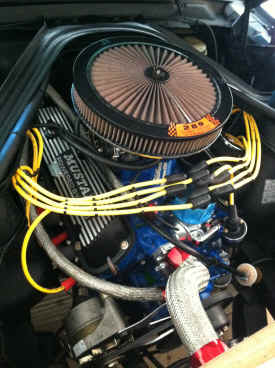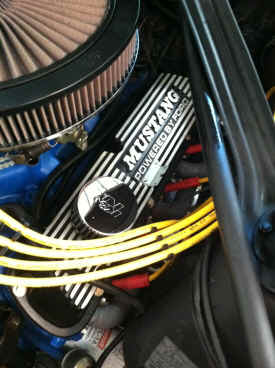 Above is my second build on this motor. I put in another electronic distributor and yellow 8.8mm Accel plug wires. I put in a 3 row aluminum radiator with an electric "pull" fan, but I was not happy with the results, so I put the original mechanical fan back in it with a 3" shroud. I replaced the 3 Row aluminum radiator with a 4 Row Aluminum and Scott Drake overflow reservoir. I added the black Export Brace to stiffen up the motor area.
CURRENT 289 MOTOR BUILD #3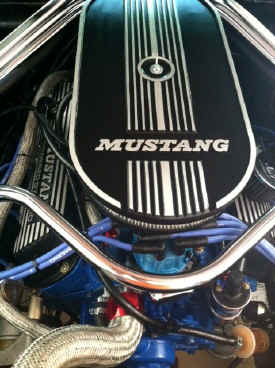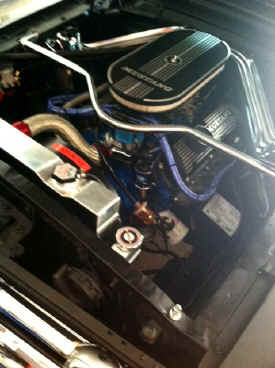 This is the current motor. I replaced the valve cover gaskets. I removed the Edelbrock (thick) gaskets and put in the Fel-Pro rubber gaskets. I replaced the oil sending unit and the voltage regulator. I put in a curved chrome Monte Carlo Bar... talk to me before you do this... please. I replaced the black export brace with a chrome one. I replaced the Acell 8mm plug wires with Ford Racing 9mm plug wires. I bundled them instead of using wire loom separators. I replaced the K&N air filter with the 21" long Mustang air filter. It looks good, matches the valve covers, fits the curved Monte Carlo bar, but I swear I believe it robbed some of my horsepower. I put the K&N back on to drive the car and the new pretty one in the box in the trunk. I'll switch them if I'm showing the car,